Our Mission and Vision
Our mission is to provide children with special needs the opportunity for an inclusive education in Catholic schools within the Diocese of Dallas. We envision our Catholic schools to be a place where every student is valued as a unique child made in the image and likeness of God.
What We Do
The FIRE Foundation, an independent 501(c)(3) organization, makes it possible for partner Catholic schools in the Diocese of Dallas to hire special educators, paraprofessionals and to acquire learning materials and technology that create successful learning experiences for all children. With grants from FIRE, schools are able to welcome students with Down syndrome, significant learning disabilities, Autism spectrum disorder, and students who face other special learning challenges. In inclusive learning environments, children grow up knowing and appreciating each other's unique gifts.
Your Support Changes Children's Lives

There is a very important spiritual dimension to what we are doing. Jesus did not discriminate. And that is our teaching, the message of the gospel: that everyone made in His image and likeness should be treated fairly, given the same opportunities and become one in the family of God.
– Bishop Emeritus Raymond Boland

Although willing, not all Catholic schools have the resources needed to welcome students with special needs. We are working to grow throughout the Diocese of Dallas and your support will help us spread FIRE's flame so that more children can learn and thrive in a Catholic academic community and thus enriching all students with the blessings of inclusive learning.
When you support the FIRE Foundation of Dallas, you embrace love and acceptance.
Our History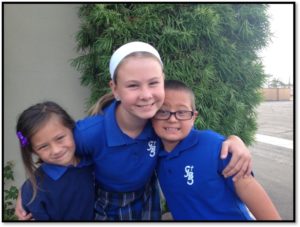 FIRE Foundation of Dallas was started by Carrie Ro who has been supporting her son, Jonathan, in Catholic Schools since preschool. Mrs. Ro was motivated to start FIRE Foundation of Dallas, after relocating to the Dallas area and meeting with so many families who also desired an inclusive Catholic education. FIRE Foundation of Dallas is modeled after the FIRE Foundation in Kansas City which has been supporting inclusive Catholic education since 1996. FIRE Foundation of Dallas is just one of the many affiliates that is igniting across the country. Please join us in supporting this very important mission which affirms the teachings of the Catholic Church. 
Contact Us
For more information on Inclusive Catholic Education within the Diocese of Dallas, call 949-690-3925 or email carrie@firefoundationdallas.org.